One man's quest to keep nukes away from Al Qaeda
Rolf Mowatt-Larssen, a former CIA counterterrorism expert, lays out his ideas on how to prevent the spread of nuclear materials on the black market – including the controversial 'Armageddon test.'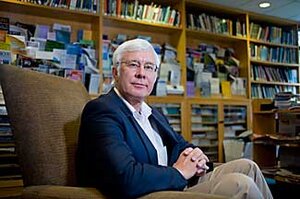 Ann Hermes/The Christian Science Monitor
Like many terrorism experts at the time, Rolf Mowatt-Larssen wasn't taking Osama bin Laden too seriously when he said he wanted to obtain a nuclear bomb. Then he heard about "the meeting."
Mr. Mowatt-Larssen was working as the Central Intelligence Agency's top counterterrorism expert on weapons of mass destruction (WMD) – a post CIA director George Tenet had appointed him to after 9/11 since the US knew so little about Al Qaeda's capabilities. [Editor's note: The original version misspelled George Tenet's name.] The agency found out that in August 2001 – even before the World Trade Center attacks – Mr. bin Laden and one of his lieutenants had met in Afghanistan with Sultan Bashiruddin Mahmood, a gas-centrifuge expert in Pakistan's nuclear weapons program.
"For me, the galvanizing moment was probably when I found out that Mahmood ... was sitting around a campfire with bin Laden describing how to build a nuclear bomb," Mowatt-Larssen says. "I realized ... we're dealing with something we hadn't even been contemplating was possible" – a systematic plan by a terrorist to build a nuclear weapon.
---