More US troops to Afghanistan? Why Mullen won't answer.
After eight years, the Pentagon is only now giving the country its full attention – and understanding Afghanistan takes time.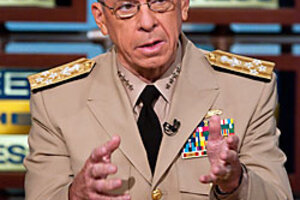 William B. Plowman/ Meet The Press/ AP
Twice on Sunday morning – and many times before that – America's top military officer, Adm. Mike Mullen, was asked point blank whether the United States is going to send more troops to Afghanistan. Twice, he refused to give a definitive answer.
The answer appears clear. A variety of media reports have suggested that the new US commander in Afghanistan, Gen. Stanley McChrystal, will ask for more troops, perhaps within the coming month. Moreover, Mullen himself said on CNN's "State of the Union" Sunday that the situation in Afghanistan was "serious and deteriorating."
To be sure, any request for more troops will be met with frustration and perhaps even rebellion from Congress. It will also add to the strain on US forces. Yet there are other considerations behind Mullen's apparent coyness.
He hinted at them in a different interview on Sunday morning – on NBC's "Meet the Press": "In certain ways, we're stating anew" in Afghanistan, he said.
Given that this October will mark the eighth anniversary of American involvement in Afghanistan, that might appear a shocking statement. But Mullen intimated why, despite billions of dollars and thousands of lives lost, the past eight years have brought the US no closer to its goal of a stable Afghanistan that can deny Al Qaeda refuge.
---