Why does McChrystal need more troops for Afghanistan?
McChrystal's battlefield assessment, leaked Sunday, says that the US will likely fail in Afghanistan if his mission doesn't get more resources.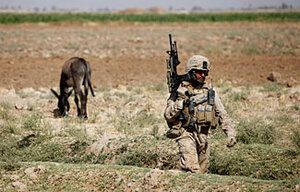 Brennan Linsley/AP
Deploying more troops to Afghanistan will not win the war, but not sending them will surely lose it, says the top US commander there in a much-anticipated assessment of the eight-year-old military mission.
An unclassified copy of the 66-page assessment was leaked to The Washington Post Sunday, confirming what many experts had expected: Gen. Stanley McChrystal will ask for more troops. But what will more troops accomplish?
McChrystal's apparent answer is that the US must mount a proper counterinsurgency effort. In the bumper-sticker parlance of counterinsurgency, coalition forces must clear, hold, and build. To do that, the US and its allies must protect the population, weed out the insurgency that attempts to grow among it, and train an indigenous security force to ultimately take over the mission.
Afghanistan has long been an "under-resourced" mission, McChrystal says. This prevents coalition forces from being able to "hold" an area after clearing it. That creates a vacuum the insurgency can once again fill.
More troops would also be necessary if the US is to follow McChrystal's recommendation to double the number of Afghan security forces from a current goal of about 200,000 police, Army, and other forces to about 400,000. That, ultimately, is the US exit strategy of transferring security responsibility to the Afghans, much in the same way as in Iraq.
---