More troops in Afghanistan? Naysayers gain clout with Obama
Obama faces pressure to choose an Afghanistan plan that doesn't call for huge commitment of troops.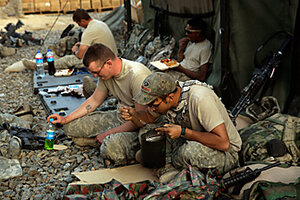 Maya Alleruzzo / AP
Ever since President Obama outlined his new strategy for Afghanistan in March, the notion that the US would deepen its involvement there seemed like a foregone conclusion.
But in the past few weeks, a grim assessment from the US commander on the ground and flawed Afghan elections have strengthened the voice of the naysayers who warn of a costly quagmire – giving Mr. Obama pause. Obama now finds himself in a quandary, mulling over the options – from the full-blown counterinsurgency fight his generals advocate to a scaled-back, targeted approach more acceptable to critics of the Afghan war.
Amid calls from Republican lawmakers and even senior military offices to decide soon, Obama huddled with his national security team last week to determine the best way ahead. The delay in deciding indicates that the opponents have his ear.
It's no longer in America's interest to expend the resources needed to create a stable Afghanistan, critics say. Al Qaeda has left the country for neighboring Pakistan, leaving the United States and its allies to fight dangerous but less significant groups like the Taliban, they argue. Couple that with the time, lives, and money it would take to stabilize a country that's still a fragile patchwork of tribes, they add.
---