USS New York, made with World Trade Center steel, heads home
The USS New York, a Navy warship named to commemorate the 9/11 attacks, is on its way to be formally commissioned in New York this November. But many New Yorkers have never heard of it.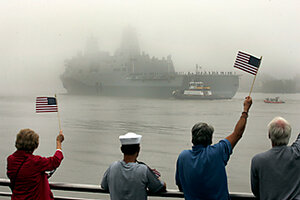 Patrick Semansky/AP
The USS New York?
Many New Yorkers profess ignorance. Is it a cruise ship? What do we need it for? Will it be a target?
Those are just some of the questions a handful of New Yorkers asked about the Navy warship which was launched Tuesday at Northrup Grumman's shipyard in Avondale, La.
The amphibious assault vessel was built with 7.5 tons of steel salvaged from the 9/11 attack on the World Trade Center. The ship, which can carry up to 800 Marines, is on its way to New York where it will be formally commissioned in early November.
While holding a door at a New York apartment building, doorman Christopher Elter admitted he had not heard of the ship.
"How many people does it hold?" he asked. Told it was partly made with steel from the World Trade Center, he worries about "spirits."
"Let's hope they are good spirits," he said.
Outside a New York subway station, a man, who identified himself as B. Ortiz, wonders how much the ship costs.
"We spend a lot of money on frivolous things," says Mr. Ortiz. "Whatever it cost, we could have used the money for the city or the subways – they're a real mess."
Another New Yorker, Rodger Alwais worries the vessel would be a "moving target." But he imagines it should be able to defend itself. And, he is in favor of anything that puts New York "in a good light."
---