Obama's Afghanistan troop decision hinges on election crisis
White House Chief of Staff Rahm Emanuel and Sen. John Kerry said Sunday it would be wrong to send more troops before the US knows if it has a 'credible partner' in Afghanistan.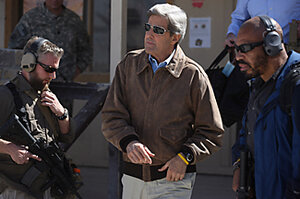 Brennan Linsley/AP
Two of President Obama's top advisers on Afghanistan – Sen. John Kerry and White House Chief of Staff Rahm Emanuel – said Sunday that the United States should not commit more troops to Afghanistan until Afghans sort through their political crisis.
The statements are further evidence that the Obama administration views the political situation in Afghanistan – and not the Taliban – as the primary threat to American success there.
"The mission is not defined exclusively by the military component," said Senator Kerry on CNN's "State of the Union."
It will also depend upon the state of the Afghan government, he said: "What will the government of Afghanistan be able to deliver."
What it must deliver, he and others say, is some minimum level of competence. Many Afghans join the Taliban – or at least accept it – because of the government's near-total failure to uphold the rule of law or provide the most basic services, such as water and electricity.
Without a degree of competence from the Afghan government, no number of troops will ever be enough to make Afghans accept what they see as an incompetent government at best, or an illegitimate government at worst.
---