Ahmed Wali Karzai and the CIA: America's conundrum in Afghanistan
A new report links the CIA with Ahmed Wali Karzai, a influential Afghan reputed to be a drug lord. The CIA has long fought wars through such men, but does that work?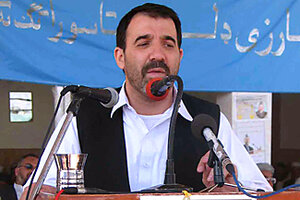 AP/File
A report in Wednesday's New York Times alleging that the CIA is secretly paying Ahmed Wali Karzai, a man reputed to be one of Afghanistan's biggest drug barons, throws into sharp relief the most crucial question the administration now faces in Afghanistan:
Should America continue its policy of working with warlords and disreputable power-brokers in an attempt to use their influence to advance US interests? Or should it instead focus on protecting the Afghan people – in many cases from the very warlords the US has supported in the past?
The answer is not as simple as such a bald statement might suggest, and it is precisely this question, in its many forms, that President Obama is now considering.
Scenario A: Karzai is the bad guy
General Stanley McChrystal, the US commander in Afghanistan, wants Mr. Obama to send at least 40,000 more troops to Afghanistan to carry out a classic counterinsurgency. This strategy is centered on protecting the Afghan people and giving them the security needed to rebuild local economies and – in the long run – create stability. That stability would give Afghanistan the will and the capacity to repel Al Qaeda, says McChrystal.
---