High unemployment means high military recruitment
Military recruits seek not just an adventure, but a much needed job.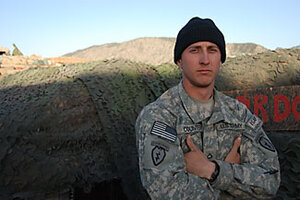 Tom A. Peter
Paktika Province, AFGHANISTAN
As a construction worker in southern California, says Blaise Counter, life was pretty sweet. Working on what he describes as "corporate millionaire homes," his $1,300-a- week paycheck allowed him his own luxury – a modest shared apartment in upscale Laguna Beach, where he could surf every day. And there was enough left over to support his 5-year-old daughter by a former girlfriend.
But when the "corporate millionaires" hit the skids in the recession, so, too, did legions of workers – like Mr. Counter – who served them. And that's how – less than a year after losing his job and his apartment amid the palms – he finds himself today living in a steel shipping container on the front lines of the war in Afghanistan at a tiny outpost along the border with Pakistan.
He signed up for the only steady work he could find – the US Army. Now a private first class, the avid surfer is hundreds of miles from the nearest beach, pulling latrine duty once a week in between dangerous foot patrols and manning mortars. But he's making about $1,900 a month, tax-free, plus room and board and medical care.
In the mellow singsong of the California surfer patois that adds an oddly cheerful flavor to his momentous decision, he explains: "I have a little girl, so I had to think about her and the possibility of never coming back to her. At the same time you've got to pay your bills and you've got to keep living." Counter is among thousands of Americans hit hard by the financial crisis who are finding financial refuge in the military, where in spite of the stark prospect of going to war, the work is steady and the pay and benefits are decent.
---