Terrorism? Fort Hood report doesn't mention Islamic extremism.
At congressional hearings Wednesday on Fort Hood, House Armed Services Committee Republicans said Islamic extremism is the '800 pound gorilla' in the room.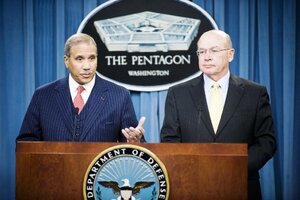 Kevin Wolf/AP
House Republicans were keen Wednesday to find out why a report titled "Protecting the Force: Lessons from Fort Hood" fails to discuss Islamic extremism as a possible motive for Maj. Nidal Hasan's attack in November, which killed 13 and wounded 43.
Frustrated by the Department of Defense's description of the Fort Hood rampage as an "incident" by an "alleged perpetrator," several members of the House Armed Services Committee wondered if political correctness is besting common sense as the US tries to understand the nature and strategy of its enemies.
The debate highlights ongoing tension over how to define and react to a series of high-profile attacks, including the Fort Hood rampage and the attempted Christmas Day bombing of a Detroit-bound jetliner.
President Obama has described the Christmas Day attack as an act of war, but the government has so far resisted calling the Fort Hood attack "terrorism," despite Hasan's ties to a cleric in Yemen alleged to be an Al Qaeda recruiter. Republican criticism come as conservatives – most notably former Vice President Dick Cheney – have sought to cast Obama as weak against terrorism.
---