Patiently, US soldiers struggle to help Haiti rebuild
As US troops arrive in Haiti, they are feeling overwhelmed by the sense of need. But they are also gaining experience and learning how to manage the situation.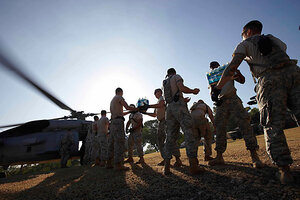 Gregory Bull/AP
A paratrooper unit called the Green Falcons arrived at a basketball court atop a hill here to dispense food and water to a Haitian camp, but the men also carried with them the necessary amount of patience and restraint.
Both virtues are required in military operations here where the need is so great but the desperation makes distribution of the relief so difficult. Members of the unit learned this during their first drop of rations, when an orderly group of Haitians lined up for assistance mobbed their truck and the unit had to leave early.
Later, the men felt a mixture of pride and defeat, wishing they could do more, and frustrated that the crowd didn't respond more positively.
"The need seems like it exceeds our ability to get it out there," said 1st Sgt. Robert Farnsworth, the company's enlisted leader, back at their own camp.
"We could do this 24 hours a day for the next six months and it wouldn't be enough," said Farnsworth. "It's frustrating."
The unit, Alpha Company, part of the 2nd Brigade of the 82nd Airborne Division, Fort Bragg, N.C., is part of a group of thousands of American military and US aid and relief workers trying to put Haiti together again after the devastating earthquake earlier this month. Many deployed at the last minute with little time to learn the culture or to plan how to conduct humanitarian relief operations.
The paratroopers had expected they would likely go to Afghanistan sometime this year or next to fight insurgents but now find themselves having to adapt quickly to operate in this poor, tropical country now dotted with encampments and despair.
---
Follow Stories Like This
Get the Monitor stories you care about delivered to your inbox.