In Gates's Pentagon budget, humble pie for Lockheed Martin
Defense Secretary Robert Gates unveiled a budget Monday that seeks to gear Pentagon spending toward today's threats. It also carried a rebuke for the aerospace giant Lockheed Martin, which ran into problems developing the F-35 Joint Strike Fighter.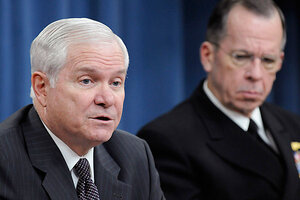 Jonathan Ernst / Reuters
The Pentagon unveiled a $708 billion budget Monday that represents another attempt by Defense Secretary Robert Gates to reform defense spending to support current conflicts and those the US is likely to face – not toward theoretical threats like China.
Since he arrived in 2006, Mr. Gates has tried to focus the massive defense budget on what is needed for the conflicts in Iraq and Afghanistan, spending more money on remote-controlled aircraft, vehicles that protect troops against roadside bombs, and helicopters. This budget is built on those tenets, as is the Quadrennial Defense Review, a document also released Monday that lays out Pentagon priorities for the next decade.
But the budget also shows Gates's reformist zeal in other ways. Gates announced that he would withhold $614 million in performance bonuses for defense giant Lockheed Martin after problems came to light in the production and design of the F-35 Joint Strike Fighter, a plane the Pentagon hopes will become its "backbone of US air superiority," Gates said.
"If I've set one tone here at the Department of Defense it's that when things go wrong, people will be held accountable," said Gates, who has fired a number of department heads during his tenure.
To give more clout to the Pentagon officer overseeing the project, Gates elevated him to a three-star general and fired the program manager, a more junior officer.
Defense budget by the numbers
---