Defense Secretary: Pentagon must trim the fat in war on waste
Defense Secretary Robert Gates said Thursday that the Pentagon needs to streamline its management structure and be fluid enough to shift resources to high priority areas when necessary.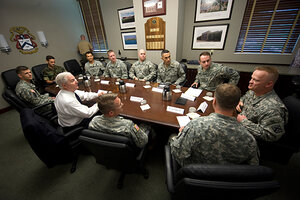 Cherie Cullen/US Department of Defense
Defense Secretary Robert Gates said Thursday the Pentagon's budget won't shrink any time soon but that it is imperative to trim the fat and make the building operate more efficiently.
Appearing at the Pentagon with Adm. Mike Mullen, chairman of the Joint Chiefs of Staff, Mr. Gates reiterated his push to reform the Defense Department's baseline budget which for fiscal 2011 is proposed for $708 billion. But that doesn't mean Gates thinks it should get any smaller. On the contrary, he said that during a period of "continued conflict," the defense budget should in fact grow "modestly but steadily" over the long haul. But excesses exist, said Gates, and "belt-tightening" is important.
"The department will face very difficult choices with regard to sustaining needed military capabilities in the years ahead unless it is able to shift resources away from the excess management structure or lower-priority areas and towards current and future combat capabilities," he said.
On Wednesday, the House Armed Services Committee passed a defense spending bill that includes a second engine for the Joint Strike Fighter. The second engine was proposed as a way to nurture competition, potentially saving money. But Gates thinks it would be a win-win for contractors and isn't swayed. On Thursday he reiterated his plan to recommend that President Obama veto the defense spending bill if Congress insists on the second engine.
"As I've said before, only in Washington does a proposal where everybody wins get considered a competition, where everybody is guaranteed a piece of the action at the end," Gates said. "Yeah, we're in favor of competition. But my idea of competition is winner takes all, and we don't have that kind of a situation here."
---