New Afghanistan war drawdown strategy? Move troops, don't withdraw them.
Pentagon officials have long talked of the July 2011 Afghanistan war drawdown date as being a soft deadline. Now, a NATO official suggests troops might simply be shifted around the country.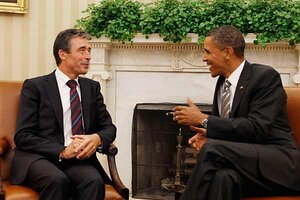 Larry Downing/Reuters
Much has been made of President Obama's announcement that he will begin a US troop drawdown from Afghanistan in July 2011. But on Tuesday, military officials signaled that they will continue to seek leeway in how, precisely, to define "drawdown."
Rather than sending soldiers back home, for example, commanders may give troops new jobs in the war-torn country, such as training Afghan security forces, according to NATO Secretary General Anders Fogh Rasmussen. Or they may simply reposition troops in more troubled regions, he told reporters this morning.
Back in June, Mr. Obama seemed to step back from July 2011 as a hard-and-fast withdrawal date for US troops, pushing instead the idea that the date should be considered a goal for US troops to begin handing security responsibility over to Afghan forces.
IN PICTURES: Inside President Obama's White House
Tuesday, as Mr. Rasmussen arrived in Washington to meet with Obama in advance of a November NATO summit, the NATO Secretary General seemed to take this idea a step further, that even "if we transition a province here and there," soldiers in the area "cannot just leave Afghanistan."
What's more, Rasmussen introduced a term that is likely to begin cropping up among Pentagon officials in the months ahead: "transition dividend."
"You may very well see that what you might call a 'transition dividend' will be reinvested in other areas," Rasmussen explains. Troops "might be needed in other regions." Or, he says, they could be used to bolster training of Afghan police and soldiers. In short, he notes, "Transition doesn't mean exit."
---