At Pentagon, 'don't ask, don't tell' is back, but under heavy guard
A new Pentagon regulation requires the 'personal approval' of one of a select few senior officials to enforce 'don't ask, don't tell.' The policy likely will hinder the removal of openly gay service members from the military.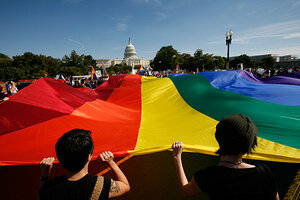 Molly Riley/Reuters/File
Although "don't ask, don't tell" is back and is once again the law over at the Pentagon, throwing troops out of the US military on the basis of their sexual orientation has become even more difficult on the heels of a new Pentagon policy change announced Thursday.
Under orders from Defense Secretary Robert Gates, now only a small handful of officials, including the secretaries of the Army, Navy, and Air Force, can decide whether or not to discharge service members under the law that prohibits openly gay service members from being in the military. Any such moves now require their "personal approval." They must further do this "in coordination" with the Pentagon's top lawyer, Jeh Johnson, and Clifford Stanley, undersecretary of defense for personnel.
Because all of these officials are political appointees of President Obama, who has made it clear that he wants to see the ban lifted, the move is likely to slow any practical enforcement of DADT policy.
"The writing on the wall is that this policy is going to be repealed," says Tim Haggerty, a professor who studies the social impact of war and directs the Humanities Scholars Program at Carnegie Mellon University in Pittsburgh. "It strikes me as a means of greatly diminishing the number of cases that can be reviewed."
---