Shooter targeting Marine Corps facilities could be ex-marine
The shots fired at the Marine Corps museum overnight mark the fourth shooting of a Marine Corps-linked facility this month. But authorities say individual marines don't appear to be at risk.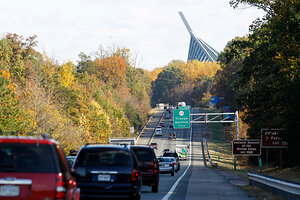 Luis M. Alvarez/AP
Authorities seem increasingly convinced that a shooter who is targeting Marine Corps facilities is a disgruntled former service member.
But officials are going out of their way to reassure current marines that they personally are likely not the target of the gunman's ire.
The fourth in a series of apparently related shootings happened overnight Thursday. It was the second time in recent weeks that the shooter has fired on the Marine Corps museum in Triangle, Va. The other targets have been the Pentagon and a Marine Corps recruiting center in Chantilly, Va.
Regarding the most recent incident, a Prince William County police spokesman said that the shots were fired from Interstate 95, a major East Coast highway, sometime between 9 p.m. Thursday and 6 a.m. Friday.
The timing of the shootings is particularly significant, authorities say, since all have occurred in the middle of the night or early morning when no one would reasonably expected to be on the premises.
"We do not believe there is an intention to harm innocent citizens or marines," said John Perren, the acting assistant director of the FBI Washington field offices, during a press conference.
Frustration with Marine Corps?
The FBI does believe, however, that the shooter likely feels deeply frustrated by the Marine Corps.
Mr. Perren added, "The subject of his grievance does appear to be the institution of the Marine Corps and not the individual men and women marines for whom he may feel a great deal of respect, admiration, and even loyalty."
---