Pentagon fears Iraq is becoming 'forgotten war'
Despite progress in Iraq, the Pentagon cautions that security in the country remains fragile. Military and civilian officials hint that the US could stay past 2011.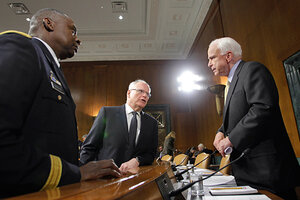 J. Scott Applewhite/AP
Iraq is in danger of becoming a "forgotten war," much as Afghanistan was earlier in the decade, according to senior US officials. Testifying on Capitol Hill this week, they further warned that US neglect of the country – where security remains "fragile" – could create a "Charlie Wilson's War" moment for America.
At the same time, in the face of ongoing instability on the ground, officials offered one of the first hints that the American military could stay in Iraq beyond this year. US troops must pull out of Iraq by Dec. 31, 2011 under the current security agreement.
"It would have been unthinkable even two years ago to say that we would reach a point at which most Americans and, indeed, some people in Washington, would increasingly be forgetting about Iraq," Sen. John McCain (R) of Arizona, the ranking member of the Senate Armed Services Committee, said Thursday. "But that point has largely come. And as much as it reflects the dividends of success, especially the success of the surge, we disregard Iraq at great peril."
---