Who is winning Afghanistan war? US officials increasingly disagree.
Gen. David Petraeus is on Capitol Hill this week to give a positive message about the course of the Afghanistan war. But some key US officials disagree with his assessment.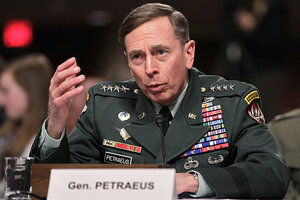 AP
Gen. David Petraeus travels to Capitol Hill this week, eager to convince an increasingly skeptical American public that the Afghanistan war is worth the effort – and that it is going well, too.
As he appears in Washington, nearly two-thirds of Americans no longer believe that the Afghanistan war "has been worth fighting," according to a new Washington Post/ABC News poll. Moreover, there are distinct differences emerging between US commanders' appraisal of US progress on the ground and that of US intelligence officials.
Some are particularly striking. Petraeus, the commander of US forces in Afghanistan, tends to point to "uneven progress" that remains "fragile and reversible," a description he used frequently for Iraq as well. In testimony before the Senate Armed Services Committee Tuesday, he said there had been "significant" progress on the ground in Afghanistan.
"The momentum achieved by the Taliban in Afghanistan since 2005 has been arrested in much of the country and reversed in a number of important areas," he added. He is expected to repeat these assurances before the House Armed Services Committee Wednesday.
---