With no-fly zone in Libya now, US-led coalition freer to attack
Missile attacks on Libyan air defenses have freed US jets to attack ground targets. But questions remain, including the use of human shields and the chance that Qaddafi might remain in power.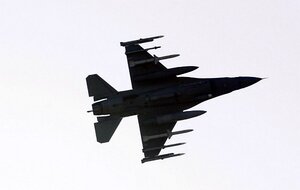 Alessandro Garofalo/Reuters
The first day of US-led attacks on Libyan military targets appears to have gone as planned.
Saturday's barrage of ship-based Tomahawk cruise missiles effectively established a no-fly zone, Joint Chiefs of Staffs Chairman Adm. Mike Mullen said Sunday.
This has allowed US fighters and radar jammers to fly over Libya, continuing the hunt for air defense facilities as well as tanks, artillery, and other Libyan army forces threatening rebel forces and other civilians. US pilots apparently are safe now from the long-range, high-altitude surface-to-air missiles that might have resulted in downed pilots becoming prisoners of war.
Many key questions remain, however, Adm. Mullen acknowledged on several Sunday morning television news programs.
What happens if civilians loyal to Muammar Qaddafi in effect become human shields, surrounding potential military targets or the Libyan leader's compound? What happens if the US-led coalition prevails militarily but Qaddafi remains in place? And what happens if Qaddafi is killed or leaves Libya but the country fractures along tribal lines?
"How this ends from the political standpoint, I just can't say," Mullen said on CNN's "State of the Union."
---