Gates: No evidence 'yet' about who in Pakistan knew bin Laden was there
'Somebody' in Pakistan knew Osama bin Laden's whereabouts, Defense Secretary Robert Gates said Wednesday. But he seemed to absolve 'senior leadership' and warned Congress against cutting US aid.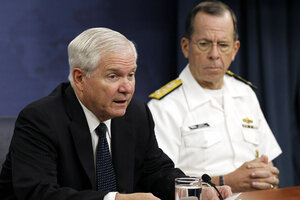 Alex Brandon/AP
The top US defense official, Robert Gates, said Wednesday that he believes "somebody" in Pakistan knew where Osama bin Laden was hiding.
But the defense secretary also warned of the consequences of punishing the Pakistani government too harshly, even as lawmakers on Capitol Hill have stepped up calls to withhold US aid from Pakistan for failing to capture or kill insurgents within its borders,
Mr. Gates acknowledged that who that "somebody" is remains elusive. "I have seen no evidence at all that the senior leadership [in Pakistan] knew. In fact, I've seen some evidence to the contrary," Mr. Gates said during Wednesday's Pentagon briefing. "We have no evidence yet with respect to anybody else."
He added, however: "My supposition is, somebody knew."
If "somebody" in Pakistan knew of bin Laden's whereabouts while keeping it a secret from the United States for years, then shouldn't Pakistan pay some price for that? Gates was asked.
"If the senior leadership in Pakistan didn't know, it's hard to hold them accountable for it," he answered.
"If I were in Pakistani shoes, I would say, 'I've already paid a price. I've been humiliated. I've been shown that the Americans can come in here and do this with impunity,' " Gates added. "I think we have to recognize that they see a cost in that – and a price that has been paid."
---