Why Pentagon chiefs are cheering end of 'don't ask, don't tell'
Top Pentagon officials hailed the end of the 'don't ask, don't tell' ban on openly gay service members Tuesday as a move consistent with the military's honor and integrity.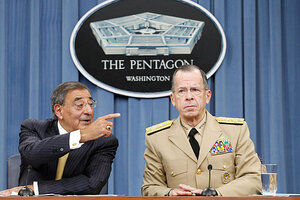 Jose Luis Magana/AP/File
At 12:01 a.m. Tuesday, it became official: The US military will no longer ban openly gay troops from serving in uniform.
The nation's top military officer, Chairman of the Joint Chiefs of Staff Admiral Mike Mullen, heralded the repeal of "don't ask, don't tell," which he said "was fundamentally against everything we stood for as an institution."
In a press conference with Pentagon reporters Tuesday afternoon, he added, "We are better than that – we should be better than that."
Many US troops and chaplains have said they expect little to change with the repeal of don't ask, don't tell, which has been in effect for nearly two decades.
Pentagon officials for their part stressed that they believe sexual orientation remains "a personal and private matter." When asked what will happen Tuesday if a gay individual walks into a recruiting station today and wants to join the military, Pentagon spokesman George Little noted that "while applicants are not asked, or required to reveal their sexual orientation, statements about sexual orientation will not be a bar to military service."
Preparing troops for the repeal
---
Follow Stories Like This
Get the Monitor stories you care about delivered to your inbox.