Unmanned drone attacks and shape-shifting robots: War's remote-control future
The Pentagon already includes unmanned drone attacks in its arsenal. Next up: housefly-sized surveillance craft, shape-changing 'chemical robots,' and tracking agents sprayed from the sky. What does it mean to have soldiers so far removed from the battlefield?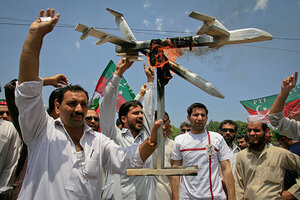 K. Pervez/Reuters
washington; and kandahar, Afghanistan
In the shadow of a heavily fortified enemy building, US commanders call in a chemical robot, or what looks like a blob. They give it a simple instruction: Penetrate a crack in the building and find out what's inside. Like an ice sculpture or the liquid metal assassin in "Terminator 2," the device changes shape, slips through the opening, then reassumes its original form to look around. It uses sensors woven into its fabric to sample the area for biological agents. If needed, it can seep into the cracks of a bomb to defuse it.
Soldiers hoping to eavesdrop on an enemy release a series of tiny, unmanned aircraft the size and shape of houseflies to hover in a room unnoticed, relaying invaluable video footage.
A fleet of drones roams a mountain pass, spraying a fine mist along a known terrorist transit route – the US military's version of "CSI: Al Qaeda." Days later, when troops capture suspects hundreds of miles away, they test them for traces of the "taggant" to discover whether they have traversed the trail and may, in fact, be prosecuted as insurgents.
Welcome to the battlefield of the future. Malleable robots. Insect-size air forces. Chemical tracers spritzed from the sky. It's the stuff of science fiction.
But these are among the myriad futuristic war­fighting creations currently being developed at universities across the country with funds from the US military. And the future, in many cases, may not be too far off.
---