How an iPhone revolution could turn the Army upside-down
An Army pilot program is putting smart phones in the hands of soldiers as a warfighting tool. But the project challenges traditional Army command culture as well as the military industry.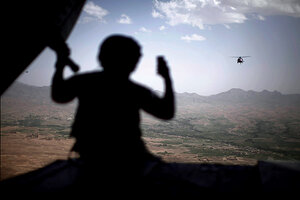 Jason Reed/Reuters/File
When Michael McCarthy started giving out iPhones to soldiers training for war in the Texas high desert, there was speculation that it might be some sort of recruiting ploy.
"There were a lot of people who thought this was a marketing thing – we're going to give you a cellphone if you enlist," says Mr. McCarthy, director of operations for the Army's Brigade Modernization Command.
But that was the furthest thing from his mind. Instead, he was hoping to recast how the Army thinks about technology.
It was a simple idea – allowing soldiers to use the smart phones they're familiar with to be more connected on the battlefield, whether to check maps or relay information. But it has profound implications for the military.
For the soldiers, the smart phones have already begun to unleash torrents of ingenuity, with some designing new soldier-friendly applications, such as links to the video feed of the base security camera.
For the Army, the smart phone pilot program points to a culture shift that would not only put new streams of intelligence into the hands of soldiers in the field but also give them the chance to evaluate that data – blurring the lines between officers and those they command. And it is sending shivers though the defense industry, which has long had a monopoly on providing military technology.
But to McCarthy, the Texas experiment has been too intriguing to ignore. "An 18-year-old kid has always had access to a smart phone," he says. "So we have the technology that the young soldiers are very, very familiar with."
That means soldiers can adapt them in ways that Army officials might not have imagined previously – and at less cost than the "exquisite" technologies exhaustively developed and produced by the defense industry.
Made-to-order military apps
Almost as soon as his unit began getting smart phones to test in the field, Spc. Nicholas Johnson began designing apps at the request of his fellow soldiers. One app took video feeds from a camera designed to secure the base perimeter and sent it to soldiers' smart phones.
---