What secrets can Iran learn from intercepted US drone?
A missing US drone may indeed be in Iranian hands, experts say. Just studying its futuristic wedge shape could prove helpful for those trying to exploit US military technology.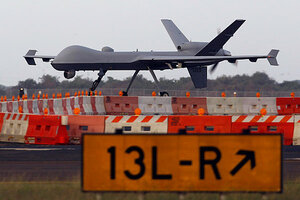 Eric Gay/AP
As Iranian officials bragged Sunday that they had taken down a US spy drone equipped with top secret stealth technology, defense analysts in Washington began scrambling to assess just how harmful such a scenario would be for US national security.
In the first phase of damage control, Pentagon officials were quick to deny Iran's claim. "We have no indication that [the drone] was brought down by hostile fire," one senior US official assured reporters.
But despite the semantics – perhaps it crashed rather than being shot down, for example – it seems quite possible that the unmanned aerial vehicle (UAV) may indeed be in Iranian hands, analysts say.
This would mark the first known case of a drone – ubiquitous in the US wars in Iraq and Afghanistan – falling into hostile hands.
"The UAV to which the Iranians are referring may be a US unarmed reconnaissance aircraft that had been flying a mission over western Afghanistan late last week," NATO officials in Afghanistan said in a statement Sunday.
This particular UAV is more sophisticated than the Predator or Reaper drones that regularly patrol the skies over Iraq and Afghanistan, streaming video and executing strikes on insurgent hideouts.
---