US troops scramble to hand off last-minute security 'details' to Iraqis
Joint patrols will end as the US exits Iraq by the close of December. There's trepidation on both sides, as US troops answer last-minute security questions from Iraqi soldiers.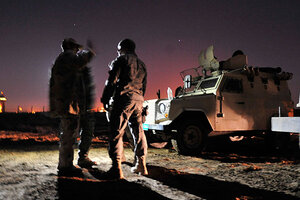 Master Sgt. Cecilio Ricardo/US Air Force
At the headquarters of the 447th Expeditionary Security Forces squadron, US troops are working 'round-the-clock to impart the last bits of knowledge they can to Iraqi forces before the clock runs out and their partnership comes to an end.
On Tuesday night they will link up with their Iraqi counterparts and together patrol the outer reaches of what's left of the US military presence in Iraq. This includes the perimeter of the American-run airfield here, where the focus for the past 2-1/2 weeks has been on the finer points of how to keep a military base secure.
There have been lessons in the basics, too, as US troops answer last-minute questions from Iraqi soldiers on everything from the best way to check for bombs to the security benefits of simply sitting in silence, listening for unusual sounds.
"It'll be a new experience, and for some of them, almost scary," says Staff Sgt. Donald Go Forth, of the departure of American forces. "A couple of them don't necessarily want us to leave – they'll be on their own."
On this point, a handful of Iraqi soldiers concur as they prepare for a 12-hour overnight security shift here. They say they feel proud to finally take the reins of security for themselves, but they admit to some trepidation, too.
"We'd rather them to stay," says an Iraqi soldier, who asked to remain anonymous for personal security reasons. "We've depended on US soldiers for a long time. When they leave, we don't know how it's going to go."
The training of Iraqi security forces has long been the crux of the American exit strategy in Iraq. As Iraqi security forces stand up, so the old Pentagon saw went, US forces will stand down. Now that time has come, and the outcome of that ultimate goal – an Iraqi force ready to provide for the country's security – remains a lingering question.
American commanders, for their part, say they would not presume to hazard a guess.
"I wish I knew the answer," Gen. Frank Helmick, the No. 2 American commander in Iraq, told Pentagon reporters last week. "We really don't know what's going to happen."
---