US Navy rescues Iranians from Somali pirates – no 'thank you' expected
A US Navy search-and-seizure team rescued the crew of an Iranian fishing vessel that had been hijacked by Somali pirates in November. Maybe Iran will send a fruit basket.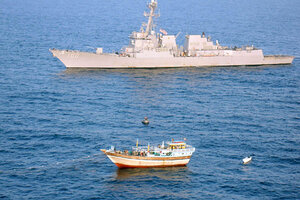 US Navy/AP
Troops from a US Navy carrier strike group on Thursday rescued Iranians who had been held on a pirate mother ship for more than a month in "horrific" conditions, according to US military officials.
The gesture seems an unlikely one at a time when relations between the US and Iran – always strained – have been growing even tenser. As the US leads international efforts to ramp up sanctions on Iran over its nuclear program, Iran has warned a US aircraft carrier not to pass through the Strait of Hormuz.
But a member of the search-and-seizure team from the USS Kidd that stormed the pirate ship said he and other members of the crew "went out of our way" to treat the Iranian fishermen "with kindness and respect."
"They had been through a lot," said Josh Schminky, a Navy Criminal Investigative Service agent aboard the USS Kidd, in a statement.
One US military official notes that the Iranians had been held aboard a ship infested with three-inch cockroaches for 40 to 45 days. The US is not anticipating any "thank you's" from the Iranian government, though maybe, the US military official joked, "They won't threaten our ships for another week or so in gratitude."
It is conceivable that a low-level Iranian official could acknowledge the rescue and even officially express gratitude for it, says Anthony Cordesman, a defense analyst with the Center for Strategic and International Studies.
That does not, however, augur any change in relations between two countries. "The problem is [Iran's] drive to move forward with its nuclear program – to expand Iranian power at a time it feels US power is weakening," Mr. Cordesman says.
---