How Pentagon budget cuts will reshape the Army
The Army has been seen as one of the big losers in the Pentagon budget cuts released Thursday. But Army officials say now is the perfect time for the force to recast itself.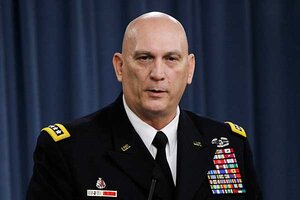 Pablo Martinez Monsivais/AP
Military officials moved quickly Friday to counter the perception that the Army was the big loser in the new Pentagon budget unveiled Thursday.
The priorities laid out Thursday will have significant effects on the Army. For starters, the Army will be smaller, moving from approximately 570,000 soldiers today to 490,000 by 2017. Moreover, Army operations will involve more Special Operations Forces that will launch missions from small bases near hot-spots around the world.
The ranks of "cyberwarriors" to combat the threat of computer attacks on vital US infrastructure will also grow.
But now is the time to make such changes, Army officials say.
"The time is strategically right to reduce the Army's force structure," the Army's top officer, Gen. Raymond Odierno, said Friday.
That's because the day-to-day job of soldiers will be changing dramatically in the years to come. US military officials promise that there will be no more wars that look like Iraq and Afghanistan – what are known in military parlance as "large-scale stability operations" – for quite some time,
"With the successful completion of our mission in Iraq, the continued transitions of operations to Afghan security forces, and the reduction of US presence in Afghanistan, our strategy calls for us to no longer plan for large-scale stability operations," General Odierno said.
---