Reports on Afghanistan war too rosy? Army officer, others say yes.
An Army officer sets the Pentagon, Capitol Hill buzzing with a published complaint that US military leaders are not being honest about slow progress in the Afghanistan war. He's not the only doubter.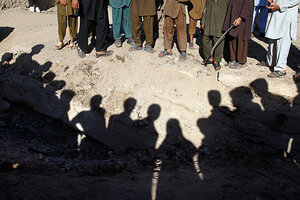 Rahmat Gul/AP/File
Are US military leaders being honest about how the war in Afghanistan is going? No – and to a troubling extent, argues an Army lieutenant colonel who served there last year.
In an article that is creating buzz in the halls of the Pentagon and on Capitol Hill, Lt. Col. Daniel Davis argues that not only is the war in Afghanistan not going well, but also that his fellow US military officers – whether due to a misguided "can do" spirit or a fear of repercussions within their chains of command – are misleading the American people.
This apparent lack of candor, in turn, is creating what Davis calls a "credibility gap," making it impossible to allow US citizens and lawmakers to "decide if the risk to blood and treasure" inherent in America's wars is "worth it."
Published Sunday in Armed Forces Journal, produced by Gannett, "Truth, lies and Afghanistan: How military leaders have let us down" begins with Davis emphasizing that, upon his arrival in Afghanistan in late 2010, he was "sincerely hoping" to learn that Pentagon officials' consistent claims – "that conditions in Afghanistan were improving, that the local government and the military were progressing towards self-sufficiency" – were true.
"I did not need to witness dramatic improvements to be reassured," he writes, "but merely hoped to see evidence of positive trends, to see companies or battalions produce even minimal but sustainable progress."
Instead, "I witnessed the absence of success on virtually every level." He cites the inability of Afghan soldiers and police to handle security in many parts of the country, and the continued widespread influence of the Taliban.
---