Why Pentagon, facing 'doomsday' spending cuts, refuses to plan for them
Pentagon brass say they won't even brook the possibility that $487 billion in mandated spending cuts – their 'doomsday' scenario – will actually come to pass. But if Congress doesn't blink, say analysts, the Pentagon will be in dire straits.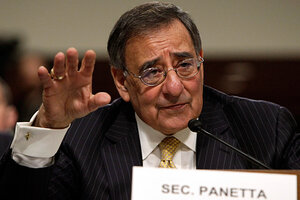 Yuri Gripas/Reuters
The Pentagon is making no plans to prepare for half-a-trillion dollars in mandatory budget cuts scheduled to take effect in less than a year, Defense Secretary Leon Panetta said in testimony Tuesday before the Senate Armed Services Committee.
Such mandatory cuts – triggered after the so-called congressional "super committee" failed in November to reach consensus on deficit-cutting – represent a "doomsday scenario" for the American military that would "virtually devastate" national defense, senior defense officials have repeatedly warned.
Mr. Panetta emphasized the point Tuesday, warning lawmakers that the cuts amount to a "meat ax" that "we are convinced would hollow out the force and inflict severe damage on our national defense."
For that reason, top Pentagon brass say they refuse to even humor the possibility. "As the president has pointed out and I've emphasized, we are not paying attention to sequester," Mr. Panetta told reporters this month, using Washington-speak for the mandated cuts. "Sequester is crazy."
"We are not planning," Robert Hale, the Defense Department's chief financial officer, confirmed Monday. "I know nobody believes this, but it's true."
The Pentagon's position on the mandatory cuts is ill-advised, some defense analysts warn. Refusing to prepare any sort of blueprint for cuts of that magnitude – particularly given their supposedly dire consequences – is not only counterintuitive, but also dangerous, they say.
---