Sgt. Robert Bales and multiple tours of duty: How many is too many?
Twenty percent of active-duty Army troops are on at least their third tour of duty to a war zone. Sgt. Robert Bales, suspected of slaying 17 Afghan civilians, was one. Here's what's known about the dangers of repeated deployments.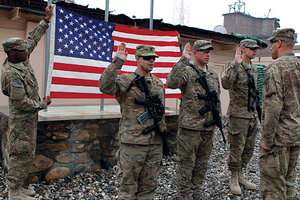 Erik De Castro/AP
The tremendous burden that battle places on soldiers – and the notion that it can push some to their breaking point – has long been one of the fatalistically accepted miseries of war.
During the Civil War, this breaking point was called, alternately, "soldier's heart" and "exhausted heart." In World War I, it was "war neurosis," "gas hysteria," and "shell shock." Sigmund Freud had his own theory about the "inner conflict" between a soldier's "peace ego" and its "parasitic double," the "war ego."
But the case surrounding Staff Sgt. Robert Bales, who stands suspected of gunning down 17 Afghan civilians – including nine children – in a murderous March rampage, is likely to spotlight the unique toll that repeated deployments to decade-long conflicts in Iraq and Afghanistan have taken on America's soldiers.
Bales's lawyer, John Henry Browne, has hinted that he will argue post-traumatic stress disorder (PTSD) played a role in his client's alleged crime. "He doesn't remember everything the evening in question – that doesn't mean he has amnesia," Mr. Browne told reporters. "There are lots of other options."
Browne might argue, too, that it is the US military's fault for not properly treating the mental wounds of war of his client, who had deployed to Iraq three times before being sent – against his will, Browne has said – to Afghanistan.
---