China is a lead cyberattacker of US military computers, Pentagon reports
China is especially interested in gleaning how best to defend its own computer networks from cyberattack, says a Pentagon report on cyberwar threats. But China is also improving its offensive abilities.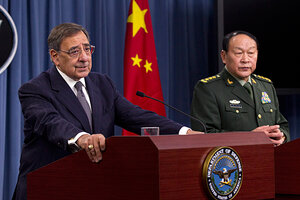 Manuel Balce Ceneta/AP
China has long been considered a dangerous thorn in the Pentagon's side when it comes to cybersecurity.
Now, a new Department of Defense report warns that not only is China responsible for many of the cyberattacks on US military computer systems, but that the country continues to launch cyber operations that threaten the US economy as well, making the Chinese "the world's most active and persistent perpetrators of economic espionage."
These developments are "something we continue to pay very, very close attention to," David Helvey, acting deputy assistant secretary of Defense for Asia security, said Friday. "I think their continued efforts in this area reflect the importance that they're placing on developing capabilities for cyberwarfare."
True, China is particularly interested in how best to defend its own computer networks, but more troubling, senior defense officials say, is that the Chinese military is bettering its ability to launch cyberattacks as well.
"We note that China's investing in not only capabilities to better defend their networks, but also they're looking at ways to use cyber for offensive operations," added Mr. Helvey during a Pentagon briefing.
The People's Liberation Army has set up a dedicated cyberunit to develop cyberwarfare technologies. "There is the potential for these types of operations to be very disruptive," he added. "I mean, that's one of the things about military operations in cyberspace – that there can be cascading effects that are hard to predict."
---