Pentagon's Plan X: how it could change cyberwarfare
The Pentagon has always been secretive about its desire and ability to carry out offensive cyberwarfare. Now, Plan X makes it clear that offensive cyberattacks will be in the Pentagon playbook.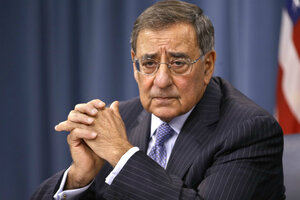 Jacquelyn Martin/AP/File
The same Pentagon futurologists who helped create the Internet are about to begin a new era of cyberwarfare.
For years, the Pentagon has been open and adamant about the nation's need to defend itself against cyberattack, but its ability and desire to attack enemies with cyberweapons has been cloaked in mystery.
Next week, however, the Pentagon's Defense Advance Research Products Agency (DARPA) will launch Plan X – an effort to improve the offensive cyberwarfare capabilities "needed to dominate the cyber battlespace," according to an announcement for the workshop.
Though the program will be closed to the press, the relatively public message is a first for the Pentagon. For one, it shows that the Pentagon is now essentially treating its preparations for cyberwar the same way it treats its preparations for any potential conventional war. Just as it takes bids from aerospace companies to develop new jet fighters or helicopters, Plan X will look at bids from groups that can help it plan for cyberwarfare and expand technologies.
Moreover, it opens a window into the highly secretive world of offensive cyberwarfare. No longer is it unclear whether the US is in the business of planning Stuxnet-style cyberattacks. Plan X indicates that such capabilities – which experts say could range from taking out electrical grids to scrambling computer networks in top-secret facilities to causing the pacemaker implanted in an enemy official to go haywire – will be an explicit part of the military playbook.
---