What Chuck Hagel would, and wouldn't, bring to job of Defense secretary
Chuck Hagel, a storied Republican maverick with a record of voting against his party, opposed the war in Iraq, supports engagement with Iran, and backed Barack Obama in his first presidential run.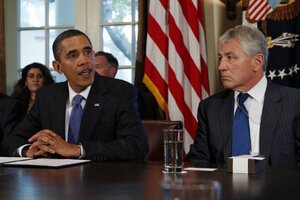 Jim Young/Reuters/File
Republican Chuck Hagel, a former US senator with a strong independent streak, is now widely seen as the front-runner for the job of secretary of Defense.
Aside from having forged a friendship with President Obama, Mr. Hagel has several other assets that may play to his favor as the president reshapes his national security team for his second term.
For starters, senators would likely afford Hagel the sort of easy confirmation process that fellow lawmakers tend to accord one another.
Then, there's the 'R' after his name. In nominating a Republican, Mr. Obama would again demonstrate his commitment to bipartisanship, as he did by carrying former Secretary of Defense Robert Gates – a Bush appointee – over into his administration.
Next, Hagel is a military combat veteran. He served in Vietnam alongside his brother, who was a fellow squad leader. Such experience is helpful for a potential Pentagon head serving in the wake of two decade-long wars, because he knows intimately the struggles of those returning from battle, longtime colleagues point out. [Editor's note: The original version of this paragraph misidentified the brothers' role in the military.]
"Chuck Hagel has the experience as a combat veteran with two purple hearts and an understanding that the decisions that are made in Washington ultimately are carried out by young men and women across the globe," Sen. Jack Reed (R) of Rhode Island and a member of the Senate Armed Services Committee, told Politico. "That is a very important intellectual, emotional asset."
---