Algeria hostage crisis: frustration for US military, and maybe regrets
A disastrous hostage rescue effort by Algeria's military this week underscores the Pentagon's difficulties in working with its counterparts in parts of Africa. But the US can't criticize too loudly: It needs Algeria as an ally to fight terrorism in the region.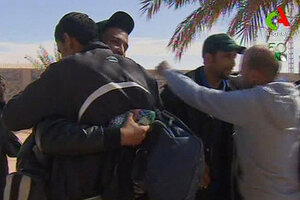 Canal Algerie via Assiaciated Press TV/AP
The disastrous hostage rescue effort by the Algerian military this week – in which innocents appear, among other things, to have been accidentally strafed by government helicopter fire – is a stark reminder of the limits of US crisis intervention and of the challenges the Pentagon faces in working with its counterparts in parts of Africa.
The Pentagon is reported to have volunteered use of its hostage rescue teams for the mission. But the Algerian military apparently shrugged off this offer and forged ahead with its operation before informing any governments whose citizens were captive, including the United States and Britain.
On this point, the Algerian government seemed cavalier. "An important number of hostages were freed and an important number of terrorists were eliminated, and we regret the few dead and wounded," said the country's communications minister.
This approach frustrates US military commanders, who are nonetheless refraining from harsh critiques of Algeria, at least publicly. That's because the Pentagon needs Algerian support against the terrorist group Al Qaeda in the Mahgreb (AQIM), which is operating in the region.
"One thing that is clear: There will not be a satisfactory solution in Mali without Algeria's participation," Gen. Carter Ham, who heads US Africa Command, said at a recent news conference.
The difficulty is that the Algerian military, which runs the government, has few incentives to help with the campaign against AQIM, which uses northern Mali as a base of operations.
"Some people are using the Afghanistan analogy for Mali. If that's the case, then you can think of Algeria as Pakistan," says J. Peter Pham, director of the Michael S. Anfari Africa Center at the Atlantic Council. "Algeria is necessary as part of any solution to what's going on in Mali, but that shouldn't blind us to the fact that what's going in northern Mali, Algeria is allowing to occur."
Many AQIM leaders are veteran fighters from Algeria's civil war who have moved south into northern Mali. "And in many cases, the Algerian government was happy for them to move on," Mr. Pham says. What's more, the logistical supply chain of these extremists "would be pretty nonexistent without Algeria," he adds.
---