Women could be great Navy SEALs, says head of Special Ops
The head of Special Ops has indicated his support for integrating women into the elite force. The necessity, he adds, is ensuring that all special operators are in peak physical condition.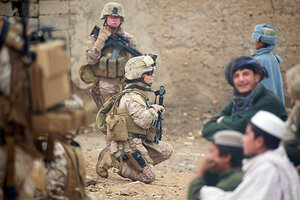 Courtesy of David Hernandez/DOD/Reuters/File
The head of US Special Operations Forces (SOF) says he supports the integration of women into the elite force.
"It's time to do this," says the organization's top officer, Adm. William McRaven.
"We've had women supporting direct Special Operations for quite some time," he added in remarks Tuesday morning at the Special Operations/Low Intensity Conflict conference in Washington.
The necessity, he said, is ensuring that all special operators are in peak physical condition. "The one thing we want to make sure [we do is] we maintain our standards," McRaven said.
It's a sentiment echoed among current and former special operators.
Retired Lt. Col. Gary Sargent, a former SOF officer, says he supports integrating women into SOF, as long as they meet the physical requirements.
As a special operator in Haiti in the 1990s, for example, he recalls lugging 140 pounds of gear. His radio operator carried considerably more, says Sargent, who is now director of business development for Asymmetric Technologies.
The physical requirements of Ranger School, or even infantry basic training, are considerable, and only a limited number of women are likely to qualify, current SOF operators warn.
The question, Sargent says, is whether lawmakers – alarmed that more women don't meet rigorous physical standards to be infantry or special operators, for instance – become tempted to lower them.
Col. Ingrid Gjerde, an officer in the Norwegian infantry for 25 years and commander of Norwegian forces in Afghanistan in 2012, says the physical standards are something that female troops in Norway have fought to uphold.
---