In Afghanistan, Hagel faces early test: how many troops to leave behind
With his arduous confirmation finally over, Secretary Hagel arrived in Afghanistan to confront considerable challenges, including the pace of withdrawal and the size of the residual US force.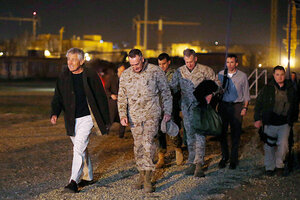 Jason Reed/AP/Pool
Chuck Hagel touched down in Kabul on Friday, his fifth visit to the country but his first as the brand new US secretary of Defense.
With a lengthy, even bruising, confirmation process just concluded in Washington, Secretary Hagel faces some considerable challenges that await him in Afghanistan, as US and NATO troops continue to fight a nearly 12-year-long war.
Among the most daunting of these is developing a plan for withdrawing US combat forces from the country by 2014. This means wrestling with two thorny questions: How quickly should American troops be withdrawn from Afghanistan – there are currently 66,000 in the country – and what is the ideal size for the residual force that will hold down the fort and continue training Afghan security forces after 2014?
This latter issue was brought into sharp focus this week during a Senate Armed Services Committee hearing with Gen. James Mattis, the outgoing head of US Central Command – the military command responsible for running the war in Afghanistan.
---