Top admiral worries North Korea crisis could escalate 'pretty quickly'
In congressional testimony, the head of US Pacific Command said tensions stoked by North Korea mean that one miscalculation could lead to 'significant combat activity from the North.'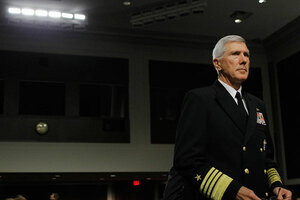 Gary Cameron/Reuters
North Korea is a "clear and direct threat" to the United States, according to the top US military officer in the region, who adds that – even in a decades-long cyclical relationship of threats followed by cool down periods – he can't recall "a greater time" of tension with North Korea.
The comment by came in congressional testimony Tuesday by Adm. Samuel Locklear, head of US Pacific Command, with one lawmaker likening the situation to the beginning of World War I. Sen. Angus King (I) of Maine pointed to a greater danger that there could be a "Guns of August" event – a reference to the book by Barbara Tuchman, considered required reading within the US military, that illustrates how Europe "stumbled" into World War I through a series of miscalculations.
Admiral Locklear did not dismiss the statement. "I share your concern about the seriousness of a provocation that would lead to a miscalculation or an escalation that would go kind of up and out pretty quickly," he told the Senate Armed Services Committee.
So quickly, in fact, that "you could see significant combat activity from the North is a very short time line," he added. "It is a very dangerous situation."
Pentagon officials have been trying to ratchet down tensions in recent days, deciding on Monday to delay a routine reliability test of a Minuteman-III intercontinental ballistic missile at Vandenberg Air Base in California so it would not be misconstrued by North Korea, given that it is a "particularly tenuous time" in the region.
---