Pentagon sends troops to Jordan to counter Syria chemical weapons threat
The Pentagon said this week it would send a small number of troops to Jordan to help forces there deal with Syria's chemical weapons threat and to prevent the civil war from spilling over.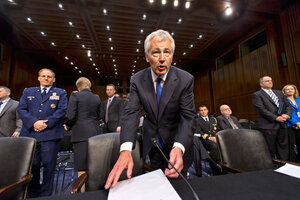 J. Scott Applewhite/AP
The Pentagon's decision to send a contingent of US troops to Jordan, announced by Defense Secretary Chuck Hagel during a congressional hearing this week, raises the question of whether the Obama administration has now moved one step closer to a military intervention in Syria.
Mr. Hagel told lawmakers that he green-lighted the deployment last week in order to "improve readiness and prepare for a number of scenarios."
These troops, a unit from Fort Bliss in Texas, will bring the number of US forces in Jordan to more than 200. The plan is for the US troops to help train their Jordanian counterparts in the finer points of defending their border with Syria.
But Hagel issued clear warnings against the dangers of an American military intervention in the Syrian civil war, which has so far claimed 75,000 lives.
These US forces, he said, are not meant to be a stepping stone to US troops on the ground fighting alongside rebel contingents struggling to overthrow the government of Syrian President Bashar al-Assad.
---