Pentagon budget woes: furlough civilians, buy tanks you don't want
Once again, the Pentagon wants to scrap a weapon – in this case, the Abrams tank – that Congress has an interest in preserving. But with 'sequester' cuts, the tradeoff will be civilian furloughs.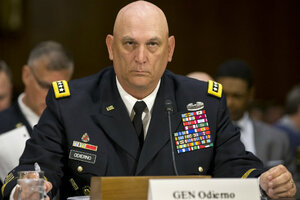 J. Scott Applewhite/AP
Even as the Pentagon struggles to make some tough, congressionally mandated cuts to its budget, lawmakers are now trying to force defense officials to buy expensive equipment that the military insists US troops do not need.
The most recent example of this congressional arm-twisting involves the hulking, 70-ton Abrams tank.
In the face of sequestration (the 10-year plan to cut federal spending by $1.2 trillion that went into effect March 1), the US military has warned that it will have to trim back on crucial troop training exercises and maintenance.
Gen. Martin Dempsey, chairman of the Joint Chiefs of Staff, described as "heart-wrenching" the cuts that the military is currently being forced to make – including to child development programs and schools on military bases – when he spoke last week at a town hall meetingwith US troops stationed in Japan.
The service branches are trying to stave off civilian furloughs.
For civilians who work alongside US forces in critical support jobs in the midst of war, "this issue of furlough hangs over you," General Dempsey says. "And I am personally embarrassed about that, frankly – it's not the way to treat people."
"We'll get through it," he adds of the sequester cuts, "but we're being extraordinarily careful about how we spend our money."
---