US promises military aid to Syrian rebels. Now what?
US military aid to Syrian rebels is expected to begin arriving in a few weeks, delivered by the CIA through secret bases in Turkey and Jordan. Reports say it will include light weaponry, but not shoulder-fired antiaircraft missiles. The Pentagon also has proposed a partial no-fly zone.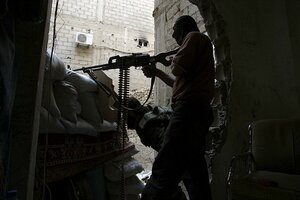 Khalil Ashawi/REUTERS
The regime of Syrian President Bashar al-Assad has crossed President Obama's "red line" in using chemical weapons to kill rebel soldiers and civilians.
As a result, the Obama administration says it will provide military help to those rebel forces engaged in a civil war that has cost some 93,000 lives.
Now what?
Reports are beginning to outline the weaponry and where it will go. Weapons will likely include automatic rifles, light mortars, and rocket-propelled grenades (RPGs) – but not the shoulder-fired antiaircraft missiles known as MANPADS (man-portable air-defense missiles).
The fear is that antiaircraft missiles could end up in the hands of more militant factions fighting in Syria, including Hezbollah and those with connections to Al Qaeda.
"Arming groups whose members likely have links to Al Qaeda and other radical groups, and may not have the ability to secure their weapons, is not only unwise but could increase the amount of weapons in the region and exacerbate the terrorist threat to the US and our allies," US Sen. Tom Udall (D) of New Mexico said in a statement to Fox News Friday.
"I am very skeptical that arming rebels we know little about, and intervening in a Middle East civil war, will serve US interests," Senator Udall said. He points out that weapons sent to the mujahideen fighting Soviet occupiers in Afghanistan in the 1980s ended up in the hands of the Taliban.
Aid to the rebels will most likely go through Turkey, where the United States is involved in a secret base that Turkey set up with Saudi Arabia and Qatar to direct military and communications aid to Syria's armed opposition, Reuters reports.
"US aid could also go through Jordan where several thousand US troops are on a joint exercise," according to Reuters. "A further 200 soldiers from the US Army's First Division are also there."
---