Why does John McCain have a problem with the chairman of the Joint Chiefs?
Sen. John McCain said he'd put a hold on the confirmation of Gen. Martin Dempsey for a second term after a testy exchange about Syria. Is the senator's real aim to engage with the White House on Syria policy?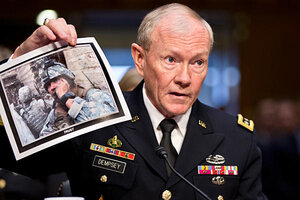 J. Scott Applewhite/AP
Following a testy exchange between Sen. John McCain (R) of Arizona and Gen. Martin Dempsey, chairman of the Joint Chiefs of Staff, Senator McCain said he'd place a hold on Dempsey's confirmation for a second term.
Is this move really a bid to engage the White House in a conversation about Syria? Or does McCain think Dempsey should be a stronger advocate in his dealings with the White House?
Perhaps McCain was simply unhappy with Dempsey's answers to his questions during the congressional hearing Thursday.
Around the halls of the Pentagon, some US military officials like to joke that McCain is perpetually "one war away from happiness."
In any event, why did McCain come down so hard on Dempsey?
On the subject of Syria, the Senate Armed Services Committee member has been adamant about his desire to arm rebels and establish a no-fly zone.
Dempsey, by contrast, has cautioned that the contingent of rebels who are the most skilled and dominant may also be Islamist extremists unlikely to remain allied with the United States beyond their interest in getting more weapons.
"In the beginning of the year, there was a period where it was pretty evident that the extremist groups were prevailing inside the opposition," he noted.
Today, Dempsey added, "I am in favor of building a moderate opposition and supporting it."
This was the moment in the hearing Thursday when McCain went on the offensive. "This goes back to my concern about your role as chairman of the Joint Chiefs," he said.
McCain pointed to changes in Dempsey's advice to arm vetted units of the Syrian opposition. "How do we account for those pirouettes?" he asked.
---