As his lead slips, Romney targets McCain and Huckabee
Polls released Sunday show Romney in dead heats in both Iowa and New Hampshire.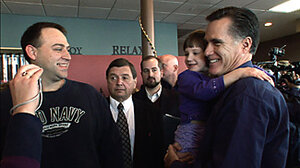 Andy Nelson – staff
Mitt Romney began seeding the soil for an Iowa victory more than 2-1/2 years ago, meeting with leading lawmakers and a former governor and sprinkling donations among local Republican organizations.
He visited more often and outspent his rivals, and, by October, the investment seemed to have paid off: The former Massachusetts governor had run up a 23-point lead over his nearest opponent in the polls and looked all but unbeatable.
Then the ground gave way. With Mike Huckabee pulling even in the latest polls here and Sen. John McCain narrowing a once-commanding lead in New Hampshire, Mr. Romney now finds himself in a harrowing two-front war for survival.
Independent polls released Sunday show Romney in a statistical deadlock with Mr. Huckabee in Iowa and in a tie with Senator McCain in New Hampshire. A month ago, Romney was leading McCain in New Hampshire by 19 points.
Romney has responded with a good cop, bad cop strategy, speaking in sunny terms about America's future during a bus tour across Iowa this past week while simultaneously launching a blitz of attack ads against Huckabee and McCain.
---