Four New Hampshire independents, four reasons they voted Democratic
A majority of independent voters in Tuesday's presidential primary chose one of the Democratic candidates. Those who voted on the GOP side helped boost McCain to victory.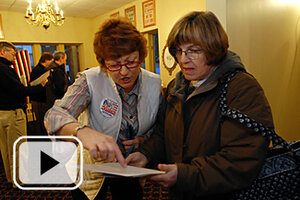 Mary Knox Merrill – STAFF
Bedford and Goffstown, N.H.
Andre Gibeau's decision came down to a choice between following his head or his heart. His heart was beating "90 percent" for Rep. Dennis Kucinich, he says. But "10 percent" was thinking: Sen. Barack Obama. In the end, he says, he followed his heart.
Betty Ward was won over by Senator Obama and his message of hope.
Donna Richards, after careful calculation of all the candidates' policies and worldviews, went with John Edwards.
These unaffiliated voters, like about 6 in 10 New Hampshire independents, cast Democratic ballots in the state primary Tuesday, according to a Monitor analysis of NBC exit polls. Enough of these political free spirits pulled Republican ballots to help boost Sen. John McCain to victory on the GOP side. But the overarching tilt of Granite State independents toward the Democrats, mirroring the trend five days earlier in Iowa, may be an early indicator of how America's growing ranks of independent voters may tilt come November.
---