Momentum builds for economic stimulus package
Bernanke's testimony bolsters support for quick action from Republicans and Democrats.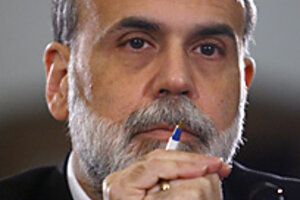 Jim Young/Reuters
After 12 months of partisan firefights in Washington, peace is breaking out on at least one front: the quest for a quick fix for the nation's economy.
The stimulus plan taking shape in Congress is likely to include targeted tax cuts and rebates for middle- and low-income Americans, tax breaks for business, and spending for unemployment insurance and food stamps. Lawmakers are talking about a stimulus package in the $100 billion to $150 billion range.
The plan gained important momentum Thursday when President Bush announced his support of the concept through a spokesman, and Ben Bernanke, chairman of the Federal Reserve, embraced the idea in testimony before the House Budget Committee.
The biggest breakthrough, however, came from Capitol Hill, where Democratic and Republican leaders, who rarely sit down to negotiate or even talk, quickly set aside two of the biggest obstacles to a deal this week.
Democratic leaders signaled that they would deal separately with controversial proposals to help delinquent homeowners caught in the housing crisis if they delayed the passage of a stimulus plan. GOP leaders said they would not insist on an extension of Mr. Bush's tax cuts, set to expire in 2010.
One factor driving the new consensus is the nation's economic downturn and the need for speed to help avert a recession.
---