Politics of race ensnare Democrats
Clinton and Obama declare a truce in war of words, but the contest has been altered.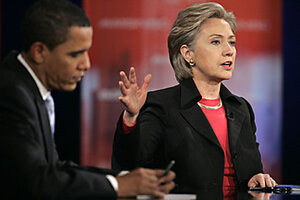 Jae C. Hong/AP
As America pauses to mark the anniversary of the Rev. Martin Luther King Jr.'s birth, Sen. Barack Obama and Sen. Hillary Rodham Clinton have declared a truce in their war of words over race. But the Democratic presidential contest has been altered nonetheless.
No longer can Senator Obama, the nation's first African-American presidential candidate with a serious chance of winning the election, make allusions to the historic nature of his candidacy without sparking memories of the charges and countercharges that took the Democratic contest away from issues and onto the politics of identity.
And no longer can anyone claim that Obama has succeeded in transcending race in a country with such a troubled racial history. In the latest wrinkle, Obama now faces questions about the magazine published by his church in Chicago, and its decision last year to honor the controversial black minister Louis Farrakhan. Such a remote connection to Obama might never have been worthy of comment in a mainstream publication like The Washington Post, but all the recent race talk has provided the peg.
The most immediate, measurable impact of the race flap on the Democratic contest may be in polls showing that African-American voters have shifted dramatically away from supporting Senator Clinton and toward supporting Obama. The latest Washington Post poll shows African-American Democrats now prefer Obama 60 percent to 32 percent compared with a month ago, when they favored Clinton 52 percent to 39 percent. Other polls, such as the latest CBS News poll, also show Obama now beating Clinton among blacks.
---