Clinton wins a polarized Nevada vote
State presages rise of identity politics: Hispanics sided with her, blacks went for Obama.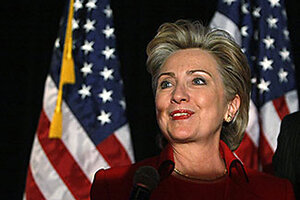 Rick Wilking/Reuters
It was union brother against union brother, bellhop against bellhop, at the Democratic caucus held inside Caesar's Palace casino. What divided them wasn't hard to see. On Sen. Barack Obama's side sat most of the African-Americans. On Sen. Hillary Clinton's, the majority of whites and Hispanics.
The pattern repeated itself throughout Nevada on Saturday. Two-thirds of Latinos went for Senator Clinton, according to exit polls, and more than 80 percent of blacks chose Senator Obama. The two groups were evenly divided, making up 15 percent of voters. That left white women to decide the vote, breaking 55 percent to 31 percent for Clinton. She won the contest 51 percent to Obama's 45 percent. Former North Carolina Sen. John Edwards won just 4 percent of the vote.
Identity politics have risen partly in response to the racial sparring between Clinton and Obama earlier last week. But more fundamentally, say experts, its prominence highlights the lack of ideological and policy daylight between the Democratic front-runners.
"All the first-tier concerns [of Democrats] about the war, abortion rights, civil rights -- they aren't in play. That's all for November. So what's left to argue about? Identity, experience, second-tier stuff," says Bruce Cain, director of the University of California Washington Center in Washington, D.C.
---