On the dais again, it's the other Clinton
The former president has been mostly an asset in his wife's presidential campaign, but some top Democrats are starting to issue warnings in the media.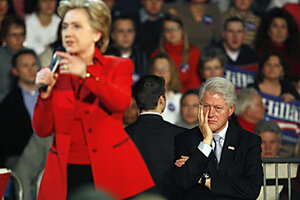 mike stone/reuters
If a latter-day Rip Van Winkle woke up today after an eight-year nap, he might think Bill Clinton was running for a third term as president.
The former president carries a full slate of campaign appearances, helps set strategy, and commands the media's attention with every utterance. Or perhaps the more apt analogy, as Clinton stumps vigorously for his wife, Sen. Hillary Rodham Clinton, is that he's running for vice president, a job that often entails going negative.
For more than two weeks, Bill has been playing the bad cop to Hillary's good cop, aggressively going after her top opponent for the Democratic nomination, Sen. Barack Obama, on his record, his assertions, and his experience. By the time Monday's debate rolled around in Myrtle Beach, S.C., the tensions burst into the open.
"I can't tell who I'm running against sometimes," Senator Obama retorted in apparent exasperation over being double-teamed by the Clintons.
On the eve of crucial primaries that could determine who wins the Democratic nomination, a big question looms: Is the outsize role former President Clinton is playing in his wife's presidential campaign a smart strategy?
For now, political analysts are not willing to bet against the Clintons, smart tacticians who clawed back from the brink of political extinction in 1992 and won an improbable presidential victory.
---