Democratic primary: Quiet battle for the other delegates
Superdelegates, or party professionals, could play a decisive role in the outcome of the Democratic race.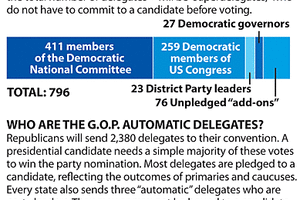 SOURCES: "Delegate Selection Rules for the 2008 Democratic National Convention" issued by the Democratic Party of the United States; RNC Counsel Office/Rich Clabaugh–STAFF
As the Democratic presidential contest grinds its way through primary states and caucuses, the quest for "superdelegates" – a fifth of the total number of delegates available in the nominating process – is picking up intensity.
Call it the shadow primary. It's not played out in hard-edged debates or ad wars on the air or even at the ballot box, but rather in private conversations among party professionals – senators, House members, governors, former congressional leaders. If the race stays close, these 796 delegates could tip the outcome at the national convention in August.
"This year, they could end up being decisive," says Rhodes Cook, an independent political analyst.
But even before the convention, or the crush of primaries on Super Tuesday, the ebb and flow of the party's professional delegates is having an impact on the race. Sen. Hillary Rodham Clinton's success in corralling endorsements from 81 superdelegates fed the image of invincibility early in her campaign. But this week's nod by Senate Democratic icon Edward Kennedy to her top rival, Sen. Barack Obama, could rock that calculation.
Unlike Republicans, who give automatic delegate status only to members of the Republican National Committee, Democrats give substantial representation to party professionals.
"It was really a tip of the hat to the criticism that there were no longer smoke-filled rooms with wizened political leaders sitting down making the great compromises to be sure they'd win, so let's bring in some of the pros and let them have a voice in this," said Sen. Richard Durbin (D) of Illinois, the deputy Democratic leader, at a Monitor breakfast Tuesday.
---