Florida win propels McCain into Super Tuesday
Romney remains competitive. But the Jan. 29 outcome ends the bids of Giuliani and, on the Democratic side, Edwards.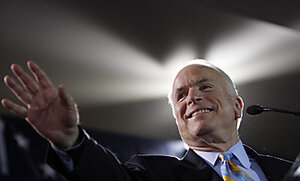 John McCain's victory in the Florida primary sends the Arizona senator into Super Tuesday with a burst of momentum, but the race for the Republican presidential nomination remains highly competitive.
Former Massachusetts Gov. Mitt Romney, who came in second among Florida Republicans, has money and organization, and as the GOP race moves on to the 21 states that will vote or caucus on Feb. 5, he'll fight hard.
Still, next Tuesday's vote appears to revolve around Senator McCain, an intense, sometimes-unorthodox Republican who was left for dead politically last summer and clawed back to competitiveness by demonstrating an authenticity that has resonated with many voters.
"With Super Tuesday coming up, it's now McCain versus anti-McCain," says independent pollster John Zogby.
McCain faces fierce resistance from some Republicans, over his support for campaign-finance restrictions, comprehensive immigration reform, and occasional votes against tax cuts. Talk radio host Rush Limbaugh recently warned his listeners that a McCain nomination would "destroy the Republican Party." Evangelical leader James Dobson has said he would not vote for McCain "under any circumstances."
---