The Mountain West, once GOP turf, is now competitive
The interior West has added new independent and Latino voters who are up for grabs.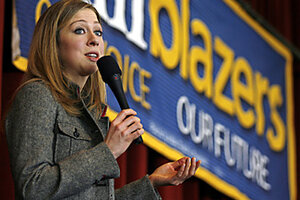 steve c. wilson/ap
They tend to ham it up: bolo ties and cowboy boots, a gun and a fishing poll never far from hand.
Democrats who've won statewide offices in mountain states often look the part of old West clichés. But they owe their victories to a new reality: The interior West is urban and professional, more focused now on environmental protection and renewable energy development, and swelling with new independent and Latino voters who are up for grabs.
Respect for the "purple mountain majesties" started with Nevada's early caucuses and will culminate in Denver, host of the Democratic National Convention. So far, the region has received more presidential candidate visits than California, with candidates stopping in Colorado ahead of Tuesday's big-state primary blowout.
"Both parties will be battling for [the region]," says Floyd Ciruli, an independent pollster in Colorado. "Democrats have already made lots of inroads [in a historically Republican stronghold], and the trend line is this [area] will be very competitive ... with the national factors being accentuated by these local changes: Hispanic voters, independent voters swinging Democratic, and a new image for the Democratic Party led by moderate statewide elected officials."
For years, this corridor – stretching from Montana and Idaho south to Arizona and New Mexico – has been neglected in national races. Seen in terms of electoral votes, delegates, or congressional seats, the eight mountain states look like molehills. More important, Republicans seemed to have a lock on the region.
---
Follow Stories Like This
Get the Monitor stories you care about delivered to your inbox.