Campaigns move into rivals' home turf
Barack Obama launched ads for his campaign in New York this week, contesting Hillary Rodham Clinton in her home state.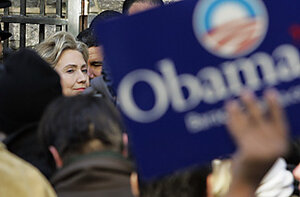 elise amendola/ap
A home field advantage is one of the few certainties in politics, and nothing comforts a presidential hopeful quite as much as the knowledge that voters at home have their back.
That is why Sen. Barack Obama's decision to launch television ads in New York – home to Sen. Hillary Rodham Clinton – caused some pique among her supporters there this week. And why Obama backers winced last year when Senator Clinton landed a Chicago billionaire as a fundraiser and national campaign chairman.
The hunt for votes, money, and news coverage on rival turf is partly practical. New York and Illinois, two of the more than 20 states with primaries Tuesday, are a jackpot of delegates and deep-pocketed donors. Even if Senator Obama loses New York and Clinton loses Illinois – near guarantees, polls suggest – they are likely to score enough votes for a share of the delegates.
But other motives are more, well, tactical. Making a stand in a foe's backyard can force opponents to divert resources from other states, analysts say. It also offers a chance to embarrass a native son or daughter among the voters who presumably know them best.
"It rattles the other side," says Jeff Bell, a GOP strategist who advised Ronald Reagan in the 1976 presidential race, when President Gerald Ford sowed some panic by nabbing endorsements in Reagan's home state of California. "You don't want to take the chance, because if you lose your own state, it can be humiliating."
---